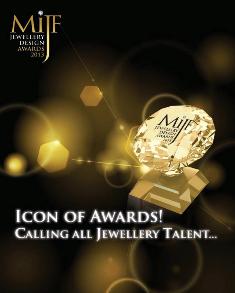 The organisers of the MIJF Jewellery Design Awards are currently calling for entries to join the 3rd edition of this prestigious contest. If you are an art and design student from any schools in Malaysian and Asia and would like to try to become one of the winners of this contest, then get your designs ready and compete against your counterparts from all around Asia. The theme for this event is 'Flame of Desire' and is held in conjunction with the 10th Malaysia International Jewellery Fair 2013.
Start working on your jewellery designs which can be used in the following categories namely, necklace, earrings, bangle or brooch and ring. You are not limited to any entries which mean that you can join in one, two, three or all four categories. You can choose any type of gems in your design while the gold must be 14k and above.
This event is fully an individual contest and you are not allowed to join on a company basis where you must be below 28 years of age with an active enrolment in any recognized institution. The deadline to submit your entries is on 31st March 2013 where you will be judged on originality, creativity, market appeal, wearability and topic relevance.