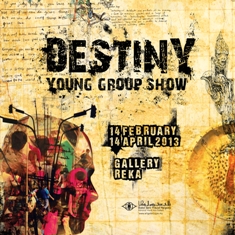 The National Visual Arts Gallery (BSVN or Balai Seni Visual Negara) is currently hosting a group art exhibition entitled 'Destiny Young Group Show'. This exhibition is part of the efforts embarked on by BSVN to promote and develop the local art scene and propel it to the regional platform. Through various programmes along this line, BSVN has discovered countless new and emerging Malaysian artists and this is one of the exhibitions which will showcase their body of work to the world.
The term 'Destiny' in the title of the show refers to the efforts by the young and new artists to make a name for themselves in the crowded and very enticing art scene. This exhibition is aimed at pushing the young artists to continue working hard on their respective art forms and that they can do so through BSVN.
Artists involved in this 'Destiny' show include the likes of Fadly Sabran, Haslin Ismail, Anniketyni Madian, Ahmad Zuraimi, Fauzul Yusri, Nizam Rahmat, Maslin Ramly, Suhaidi Razi, Jamil Zakaria, Azrin Mohd, Mohd Ali Azrie Bebit, Muhd Yusri Sulaiman, Al Khuzairie, Faizal Suhif, Diana Ibrahim, Sukor Romat, Najib Ahmad Bamadhaj, Saharudin Supar dan Khairul Azmir Shoib who have all been involved in other exhibitions, residency programmes as well as shows both within and outside the country.
Opening Hours: Mondays to Sundays – 10.00am – 6.00pm