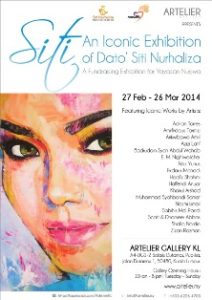 The Artelier Gallery in Solaris Dutamas is currently hosting a group exhibition which pays tribute to Dato Siti Nurhaliza, perhaps one of the most celebrated artistes from Malaysia. The show is entitled 'Siti: An Iconic Exhibition of Dato' Siti Nurhaliza' where as the name implies will be featuring iconic works by the artists and their own unique and original interpretations of Dato' Siti.
This show is a fundraising exhibition which will be channeled towards Yayasan Nurjiwa, which is the brainchild of Dato' Siti and her husband, Datuk Seri Khalid Mohamad Jiwa which is mainly involved in charity works and particularly in helping those in need of help or assistance. In 2011, the Yayasan Nurjiwa built the Masjid Al-Khalidiah Kampung Permatang Pasir in Kuala Muda, Kedah.
This exhibition is part of the efforts of the Yayasan Nurjiwa to raise RM4million for this year which include the recently held Datuk Siti Nurhaliza Live in KLCC – Where the Heart is. Apart from that, there are other programmes planned up which include charity runs, treasure hunts and mini concerts, among others where the body is very much involved in the helping orphans, single-mothers and women in general who are in need of any form of assistance.
Opening Hours: Tuesdays to Sundays – 10.00am to 8.00pm
Artists Involved:
Adrian Torres
Amirfirdaus Tarmizi
Arikwibowo Amril
Azizi Latif
Badruddin Syah Abdul Wahab
EM Nightwatcher
Faiz Yunus
Fridaus Mahadi
Haafiz Shahimi
Haffendi Anuar
Khairul Arshad
Muhammad Syahbandi Samat
Nazmi Ismail
Sabihis Md Pandi
Scott & Dhameer Abbas
Shafiq Nordin
Zizan Rozman