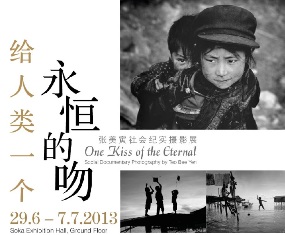 Organized by Soka Gakkai Malaysia together with The Photographic Society of Malaysia, a solo exhibition entitled 'One Kiss of the Eternal – Social Documentary Photography by Teo Bee Yen'will be held starting from the 29th June 2013 at the Soka Exhibition Hall at the Wisma Kebudayaan SGM in Kuala Lumpur.
The show will feature the works of Teo Bee Yen who is born in Quanzhou of the Fujian Province of China. He came to Malaysia many decades ago with his parents when he was very young and had to grow up in some very difficult living conditions and environments.
Teo worked as a labourer in Singapore during his older years and after many years of hardwork, he started his own business and is a very successful one today. It is in his early hardships and sufferings that make him who he is today, a tough and resolute person who appreciates life and the beauty that comes with it.
This is seen through his photography where he uses the lens to reflect the eyes of the human soul which he captures the very essence of life itself. The photographs in this exhibition are all in black and white where he captures a lot of natural and very diverse life practices in places like Kathmandu, DaLiangshan as well as in Semporna in Sabah which will exude his exemplary techniques that have won him titles around the world, including the Singapore National Culture Medallion, the highest cultural award in Singapore.