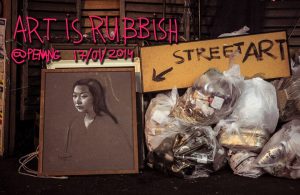 The name Ernest Zacharevic is no stranger to the Malaysian art scene and several other sectors. The Lithuanian artist is known for his mural works which have taken the world by storm and he made an announcement that this would be his 'first solo exhibition'.
Zacharevic is no stranger to controversy since his works were seen on the streets of Penang while his latest works drew the attention not only within the art circle but among politicians and law enforcers too.
This would otherwise be an interesting platform to be seen and heard where his 'Lego' mural in Johor Bahru drew the criticisms from the Johor state government, accusing Zacharevic for vandalism since he painted on a public wall. Since then, he has garnered quite a following among netizens in his Facebook page.
Not much detail has been disclosed about his upcoming show at the Hin Company Bus Depot in Georgetown except for the fact that everyone is invited to the free show and is allowed to take photos. Pre-loved junks, discarded treasures and several street items are expected to be used by Zacharevic in which he is known to have the tendency to use items like bicycles and such.