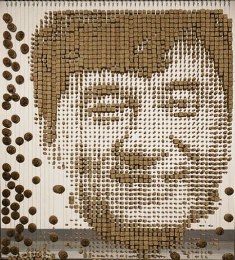 Red Hong Yi, our very own artist has presented Hong Kong superstar Jackie Chan a unique birthday present. She created a portrait of him using 64,000 chopsticks to celebrate his 60th birthday. Red who is from Sabah become popular with her very unique way of creating art when she used a basketball dipped in red paint to create the portrait of Yao Ming.
Since then, she has been using unique ways like using shuttlecocks to create a portrait of Datuk Lee Chong Wei. This time around, she was able to present the work to Chan in Beijing where she paid homage to Chan's use of chopsticks in his movies like The Karate Kid.
Red has often been associated with being an artist who likes to paint without using a paintbrush and she surely has put Malaysia art on the world map with her remarkable style.