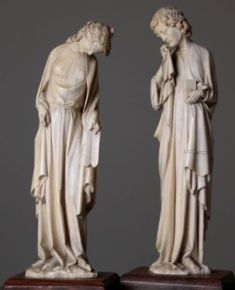 One of the world's most amazing art museums, Paris' The Louvre is seeking to appeal for a funding of $1million to in their pursue of 2 medieval ivory statuettes. According to Henri Loyrette, the director of The Louvre, they need to find €800,000 and this must be done by 31st January 2013 if they want to buy the statuettes which resurfaced recently which pretty much is the deadline they have to observe.
The private owner of the statuettes is actually asking for €2.6 million. So far, half of that amount has been raised by the Friends of the Louvre Society while another €500,000 is coming in from art insurer Axa Art which leaves the outstanding amount having no givers yet for the statuettes of Saint John and the "Allegory of the Synagogue" which is considered to be very important to the museum.
Loyrette said that with the acquisition of the 2 statuettes, it would complete the Louvre's 'Descent from the Cross' collection which he said would be a great masterpiece of French Gothic art once it is complete. The statuettes, which are about 20 centimetres tall have already been classified as national treasures and the Louvre has been given the first option to buy them. Loyrett also added the museum has been trying to complete the collection and when they have exhausted all avenues, they were at the brink of giving up in finding the 2 statuettes until a private collector came to his office and took them out of the bag.