Art teacher Eric Lai to create a Zacharevic-inspired murals for Ipoh
If one had not known better, if seems that mural art is making some form of 'comeback' in recent years. The truth is, mural art has been around and it only gained a lot more popularity these days in Malaysia, and most particularly in Penang. One of the artists who have ventured into this highly visible and exciting art form is art teacher Eric Lai.
His works are seen at a back lane near Jalan Sultan Idris Shah is Ipoh, Perak where he has produced some compelling murals of Malaysian performing several types of dances. The 37-year old teacher said that he was inspired by the works Lithuanian artist Ernest Zacharevic, who is no stranger to the Malaysian mural art scene.
Zacharevic's work can be seen majestically displayed on the back wall of 3 shops in the George Town Unesco World Hearitage Site. Eric said that the murals by Zacharevic have become a popular attraction among photographers and tourists in Penang and he wants to do the same type of initiative for the Perak state capital. An optical shop owner in Ipoh, who liked what he saw in Penang then invited Eric to paint the back wall of his shop who will sponsor the art materials involved. Hence, this kick-started Eric's project where he is current working with his students on Malaysian dances like kuda kepang and the lion dance. They are hoping to complete it in time for the upcoming Chinese New Year celebrations which will take place in February this year.
Mural artist Ernest Zacharevic do not consider himself a street artist as walls are like canvases
By now, the name Ernest Zacharevic would strike a chord with anyone who is familiar with the Malaysian art scene. For those who do not know, Zacharevic is a Lithuanian artist who is well-known for his mural paintings which have been colorizing the streets of Penang in recent months.
It is natural that Zacharevic is compared to a renowned street artists Banksy who is based in London although he choose to differ.
His 'Boy On Bicycle' mural is among the most recognized works which and most Penangites today would have come across his works one way or another along Georgetown's rustic streets. His works are interesting because Zacharevic uses his paintings to paint a lighter and very subtle mood to the everyday life of his surroundings which the people can often relate to.
The fine arts graduate from London's Middlesex University is an artist in every sense where he paints full time and is involved in filmmaking, photography and animation. He is currently based in Penang where his works have been talked about and published in countries around the world that include South Africa, Mexico, the United Kingdom, the United States, Brazil as well as in Hong Kong's Wall Street Journal Asia and Beijing's China Press, just to name a few.
He said that he admires Banksy for his humour and courage but their works are anything but similar. The humble artist also said that he do not see himself as a street artist where the wall is just another type of canvas. His works were recently seen at the Georgetown Festival 2012 and more recently at the 2012 Urbanscapes festival.
Muralist revs up his art in business signs in Long Beach
The mural art form has often been regarded as one of the major movers of the art scene and it is one of the very popular ones around. However, Roy Herweck, who is a renowned mural artist in his own accord decided to push the boundaries further when he turned business signs into a form of art. This was what he did at the Red Leprechaun at 4000 E. Anaheim St. Herweck in Long Beach.
The 68 year old muralist's work is seen across the city today where he has already been painting murals in more than 40 restaurants and 30 other businesses including the likes of Timmons Volkswagen, Mariposa Restaurant and Polly's Coffee. He has also been involved with homes and apartments where his artwork are spanned across garages, decks and such.
The one at the Red Leprechaun meanwhile provided the canvas for his work at their business sign which was hand-painted on the Irish-American pub. Other works that Herweck has been involved in include those commissioned by the Redevelopment Agency of Long Beach in which he painted on the walls of the Atlantic Avenue and on Market Street's Verizon Building where he surfed up a panoramic view of the ocean, Queen Mary and its beautiful surroundings.
Art has provided Herweck a way out of joining the Vietnam War when he painted the mural at the mess hall and then continued on to paint portraits of generals and others. Today, he makes a living out of painting murals and business signs are just one of his main forte.
Biggest mural in Sarawak in Wisma Vasty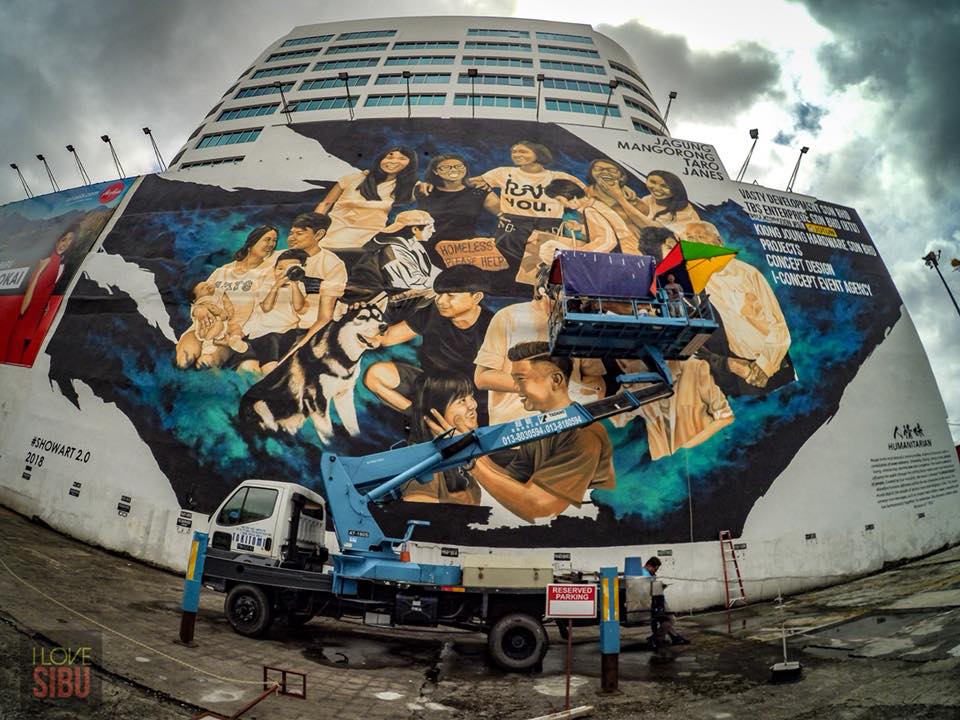 A 567-meter mural painting was recently unveiled in Sibu, Sarawak. This was on the wall of Wisma Vasty in Jalan Pulau. The mural was the work of 4 Malaysian artists who are:
Aries Kong
Koh Yong Ling
Taro Hooi
Jane Zhen
The owner of building is councillor Robert Lau Hui Yew who was all smiles during the launch with a firecracker presentation. Vasty Development, TBS Enterprise Sdn Bhd and Kiong Joung Hardware Sdn Bhd were the sponsors of the project said to cost between RM30,000 and RM40,000.
To help the artists complete the work, a crane was used which used 15 tines of 5-litre paints. They spent more than 12 hours each day to work on this and had to compete with the weather as it was the rainy season where the artists had to use hairdryers to ensure the paint was not spoiled by rain water when it poured. Image courtesy of I Love Sibu.