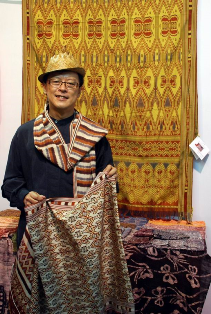 The Society Atelier Sarawak is putting Malaysian art in the world map again where it is going to host a major textile art exhibition at the Brunei Gallery in London's SOAS (School of Oriental and African Studies). The show is themed World Eco-Fibre and Textile (WEFT) which will be running between 17th January and 23rd March 2013.
The show is sponsored by Malaysia's very prestigious gallery, Galeri Petronas and is endorsed by some of the most reputable art circles in the world including Unesco, the World Crafts Council, the World Crafts Council Asia-Pacific, tge China Arts and Crafts Association, the Crafts Council of India and the Asean Handicraft Promotion and Development Association. The president of Society Atelier Sarawak, Edric Ong is the curator of the show where he said that it will be a show that will showcase the works of art that will encompass the artists' socio-cultural, economic, geographical and environmental aspects.
Using natural fibres like cotton, silk, ramie, abaca and others with colours also using organic elements like flowers, fruits and insects, it will be quite an interesting interpretation and expression of works from the artists which will include Bangie Embol and Nancy Ngali from the Rumah Gaire Longhouse in Sungai Kain of Ulu Kapit. They are renowned Iban master weavers and joined by Michael Lim another very well established fine batik artist. The art of weaving have often fascinated many where this show will bring the traditional methods of kitas, shibori and batik among others which are applied to contemporary textile art to the international arena.