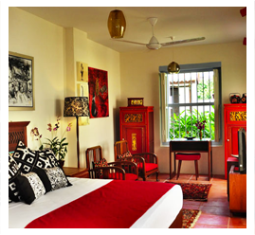 Boutique hotels in travel destinations today are very common and among one of the latest additions to the list is the 23LoveLane which started operations late last year. The unique element about this hotel is that it is not merely a boutique hotel but an artistic one.
23LoveLane is housed in the middle of George Town, the state capital of northern state Penang where apart from its heritage and historical building houses artwork of renowned artists and is a 'walking art gallery' in its own accord.
The blue-and-white building keeps works of contemporary artists like Ernest Zacharavic who is a strong advocate of the arts in George Town. Zacharavic has been painting murals around the city where 2 of his works were recently vandalised and created a social uproar among the art scene.
The hotel underwent a 3 year restoration exercise by Dr Gwynn Jenkins who is one of the principal authors of the George Town Unesco dossier and has been involved in the restoration of prominent structures like the St George's Church and the Suffolk House.
Basically, 23LoveLane is a piece of artwork in itself where it invokes memories of yesteryears with its nostalgic design and furniture. The owner is known only as N.K and despite not wanting to turn the hotel into an art gallery has created it into one of such. N.K herself is an avid art collector who is also interested in antiques and has taken out some of her collections to be displayed in the hotel and its rooms.