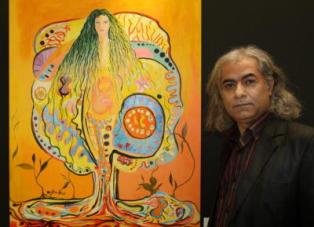 The MIKA 2012 or Malaysian, Iranian and Korean Artists Contemporary art exhibition saw the coming together of artists from 3 countries to showcase their creative and visual works. Essentially, it involved artists from Iran, Korea and Malaysia which provided the art loving crowd with a unique blend of art from different culture and traditions.
The exhibition was held at the Matic (Malaysian Tourism Board) Gallery which was jointly organised by the Korean Women's Association of Malaysia, the Cube Gallery and ArtSeni Gallery and supported by Tourism Malaysia as part of their art tourism programmes. According to Philip Wong, the curator from ArtSeni, the Koran artists adopted a lot of traditions in their paintings while others were very experimental. Wong's work was also involved in the exhibition in which he portrayed his Human Mind series in which he has spent the last 3 years working on and will be heading to New York next year for another show.
The Malaysian artists who were involved in the show meanwhile offered their own explorative mediums and expression that truly reflected the multicultural and diverse communities among the Malaysian society and its related issues.
It was also seen at the exhibition the strong coloured motifs and paintings which are often associated with Iranian art and that were seen in the works of Asghar Yaghoubi who is a renowned artist and founder of Cube Gallery. In fact, his works went along the theme of humanity which is one of the most popular subject matters among artists from the Middle Eastern country and he created his works that paid tribute to women.