LAT, born Mohd. Nor Khalid in 1951 in a village house in Kota Bharu, Perak, was the eldest child of an army clerk and a housewife. He grew up into a chubby little fellow, was nick named Bulat ('round' in the Malay language) and eventually became Lat the cartoonist we have all come to know and love.
Lat was just like any other normal kid in the 50's, when not only the Internet and VCD's were unheard of, there was no TV as well! He would run around chasing chickens, jump into streams for a dip or even run through the village just for fun. His love of drawing things uniquely Malaysian, begun in his youth, has endeared him not only to locals, but also to all who know him worldwide.
Growing up in a typical Malay village, Lat's life was simple and friendly, as everyone always had a smiling face. A huge fan of Raja Hamzah's Pahlawan ('Warrior') stories, Lat started out at a very tender age by illustrating those tales that he loved, and selling the comic books to his classmates for 20 cents each. This he could do successfully for he had a very supportive father who would take home paper from the office for Lat to practise on.
After passing the Special Malay Class Examination, the then 11-year-old Lat entered the Special Malay Class 1 of the National Type Primary School (English medium) in Jalan Pasir Puteh, Ipoh. Now this was totally new not only for Lat, but also for his classmates, as they would all be learning English for the very first time.
Malaysian cartoonist since 1960's
Lat was taught by a Mrs Moira Hew, who later became the inspiration for the creation for one of his most well-know characters, The Butterfly-Glassed Lady. Subsequently he was enrolled in Anderson School, Ipoh, where he became the Art Editor for the school's newsletter The Opinion. One of his other co-curricular activities that he took great delight in was the Cadet and Military Band, when he played the flute. He loved band music so much that he is still supporting the school's band today! He became the patron of the Anderson Premier Military Band on January 24th 1998.
He was in the 6th school year when Sinaran Brothers Limited offered to pay 25 Ringgit for his Tiga Sekawan. A comic book that was published in June 1964 marked his first published work. By 1968, Lat was earning almost 100 ringgit a month from his sales of comics published in the Berita Minggu Newspaper, Pemimpin and Dewan Pelajar. His comic strip Keluarga Si Mamat (`Mamat's Family') ran in the Berita Minggu for 26 years.
He passed the Senior Cambridge (11th school year) examination with a 3rd Grade. Wanting very much to develop his drawing skills, Lat set out for the federal capital Kuala Lumpur and had himseelf hired as a crime reporter by the New Straits Times Group.
Lat used to be a reporter
His love for drawing never stopped, busy as he was with his job as a reporter. In 1974 The Asia Magazine, a Hong Kong based publication on Asian cultures, published his cartoon contribution on Bersunat (A Malay Circumcision Ceremony). He went into fulltime cartooning not long after that.
It was in the 80's that Lat left the New Straits Times Group and struck out on his own. (He still contributes three new cartoons a week, printed on Mondays, Tuesdays and Saturdays in the New Straits Times.) The decision to leave the daily sharpened his determination to succeed in the communication and exchange of thoughts and ideas, particularly with the other artists from around the world.
Thus Lat created the character Mina for a UNESCO literacy campaign animation video in 1993 and is today an active member of Perkatun, the association of local cartoonists. Mina
The years between 1995 and 1997 saw Lat shuttling between Kuala Lumpur and Los Angeles to work with a production team to produce an animated cartoon series of the Kampung Boy. He has worked on 26 episodes of the series produced by Measat (Malaysian East Asia Satelite Broadcasting).
Lat was married to Faezah Ahmad Zanzali in 1977 and are now blessed with four children. After 27 years in Kuala Lumpur, he brought his family back in Ipoh, Perak, as he wanted his children to grow up in a quieter surrounding. He has never regretted becoming a cartoonist, feeling that he is one of the more fortunate and successful ones.
In April 1994, Lat was awarded the Darjah Paduka Mahkota Perak by HRH The Sultan Of Perak – an award which carries the title Dato'.
The Kampung Boy (`Village Kid') has come a long, long way. All Malaysians are really proud of Lat and still want him warming their hearts and lives with his special brand of humour.
The LAT Scrapbook
It Takes Two To Apple
Two by two. That is what the AppleMaster program is all about.
(Courtesy of The New Straits Times – December 1, 2000)
The Varied Drawing Lots Of Lat, Malaysian Cartoonist
Dr. John Lent on the great Malaysian cartoonist Lat, on the year his work was poised to enter into …..
(Courtesy of The Comics Journal – April, 1999)
Going Global

Malaysian cartoonist Lat introduces his Kampung Boy to the world.
(Courtesy of Far Eastern Economic Review – July 22, 1999)
Lat's Of Village People
Datuk Lat, Malaysia's best-loved cartoonist and a national treasure, is set to do us proud again – his upcoming milestone is the airing of an animated series of his Kampung Boy stories in two languages.
This time his ribtickling, heart-warming scenes of Malaysian kampung life are boosted with a hefty budget and big-name Hollywood collaborators.
(Courtesy of The Star newspaper – August 27, 1999)


Kampung Boy – The Animated Series has won the Best TV Series Award in the category of TV series of 13 minutes and more at the Annecy 99 – International Animated Film Festival in France. The series is a collaboration between Astro, Los Angeles-based Matinee Entertainment and Philippines Animated Studios Incorporated (PASI).
Kampung Boy Goes To HOLLYWOOD
Mention the name Dato' Mohd Nor Khalid and you might get a blank look, but mention Lat and just about every Malaysian will know how you mean. Firdaus Abdullah talks to Malaysia's most famous cartoonist about how he's putting sarongs on satellite TV.
(Courtesy of Vision Kuala Lumpur – January 1997)
I had been warned even before I telephoned him that Lat is evasive when it comes to granting interviews. His last interview (to a mutual friend) was ten years ago! "I don't give interviews these days," he said. "People don't want to read about me. They know my life story, the two books of cartoons (Kampung Boy and Town Boy) were all about my life and then there was 30 Years of Lat. There's nothing new that I can say about myself."
It was then that I asked about the cartoon animation of Kampung Boy that I'd heard he'd been working on for the last two years, jetting between Kuala Lumpur and Los Angeles. It was at this point that Lat agreed to an interview.
A week later I sat waiting for Lat in the Coliseum Cafe. "Be on time," I'd been told, "because he's always late." This could have posed a problem because I suffer from the same habit. I guess the same person must have briefed both of us, because I was early and he was on time. And then there he was, a cherubic face, topped by the trademark untidy hair, peering through the lettering etched into the side door of Coliseum, head craning slightly from side to side to see whether he could identify me.
My collegue with the camera and tripod must have marked us for what we were, because in came Lat and sat himself down. Lat is someone who believes in coming to the point, so pleasantries out of the way, he made it clear he didn't want to talk about everything that has led him to this juncture in life. "It's all in the books," he reminded me. "I want to talk about the animated series of Kampung Boy." Which was a good thing because that's what I also wanted to talk about.
However, what you soon learn after speaking to Lat is that if you ask him a direct question about the past, he won't answer. If, however, you ask him about any other topic, he'll fill you in with all the background bits and pieces from the past anyway. So, just for the record and with apologies to Lat for wasting time on "all that old stuff that everyone knows already", here's a very brief background sketch of Lat's life.
In 1951 in a small village called Kota Bahru, near Gopeng, Perak, Lat was born – according to Lat, he was very young at the time and hadn't yet started drawing, nor did he yet have enough hair for it to be untidy.
It's A Lat Lat Lat Lat World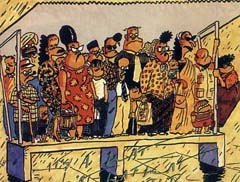 Between 1951 and 1962, Lat went from having no age at all to being 11 years old, which he admits came as something of a shock to someone so young. He lived a fairly typical life of a village kid – he ran, swam, chased chickens, ate and slept; all the usual stuff. He got chubbier and his hair grew and got untidy. He started drawing because he realise he needed to be remembered for something other than being the kid with the untidy hair and also because he had discovered how he could have fun with drawing. At school, he drew his own comic books and sold them to classmates for 20 cents a copy. His dad, who was supplying the paper, continued to encourage his son despite the fact that he wasn't getting a cut of the profits.
In 1962 Lat was packed off to an English school in Ipoh as a punishment for doing too well in his village school. There, his drawing was encouraged by one Mrs Hew (she of the beehive hairdo and butterfly rim glasses in his cartoons). It was here that he learned how to be late as she told him to take all the time he needed. His first cartoon strip was published in 1964 in a local movie magazine and he received cinema tickets as payment. Later the same year, his very first comic Tiga Sekawan was published and he was paid the princely sum of 20 dollars with which he went to the movies and bought Beatles' records.

Between 1964 and 1967, Lat continued contributing cartoon strips for magazines and eventually newspapers such as Utusan Malaysia. In 1968 he started drawing cartoons with a local feel for Berita Harian – a feature based around his observations of his five-year-old brother, Keluarga Si Mamat (Mamat's Family).
In 1970 he left Ipoh for Kuala Lumpur to work as a journalist since there were no vacancies for artists. Lat continued to produce cartoons for other publications, and the popularity of his bersunat (circumcision) cartoon strip in Asia Magazine led to the New Straits Times creating his own series for him – Scenes Of Malaysian Life. Lat was given the freedom to observe and draw about the culture, traditions, eating habits and even bad habits of ordinary people. It was this series that really catapulted his work into the limelight and eventually gave him the confidence to leap into the world of being a freelance cartoonist. He has unleashed the sharply observed humour of his books Kampung Boy, Towm Boy, Kampung Boy:Yesterday and Today, and It's A Lat Lat Lat Lat World on the audience who can't seem to get enough of him.
Tiga Sekawan

"I always remember a lot about my childhood, but once I started all the memories came flooding back." There you are, 45 years of illustrious career in five paragraphs! Now, what was so special about the book, Kampung Boy, and how did the idea of the film come about?
"I guess the origins go back to 1979 or so," Lat answered. "I got invited overseas and got asked some of the weirdest questions. Some people have the strangest ideas about what's going on in the rest of the world. That's if they even know where the rest of the world is! This experience provided the impetus for Kampung Boy. I wanted to show people where I was from , what my life as a kid in Malaysia had been like. The more I drew, the more I laughed. I always remembered a lot about my childhood and all the funny things that happened. Once I started, all the vivid memories of the mak ciks and pak ciks (aunties and uncles) whose appearances would have all us kids laughing secretly, came flooding back."